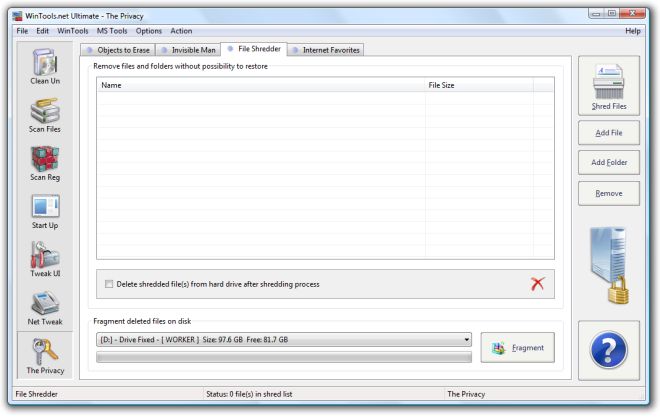 "File Shredder" is for deleting documents, programs, and other files without possibility to restore them. While deleting files on the computer the file itself is not deleted - only a part of its header is deleted. All information from the file is still kept on a hard drive but at first sight it seems to be deleted. There are special programs which can restore erased files. If you delete some of your secret files by ordinary method or by using "Recycle Bin" procedure then the files still can be restored without any problems by "unwanted person" or by Special Agencies. While deleting files the "File Shredder" tool erases information in file itself and then renames it to even prevent access to name of the file and deletes it in an ordinary way. After that sort of deleting it is not possible to define the name of the file. And if this file is restored it will contain not the original information but trash data.
To delete files without the possibility to restore first you need to place files which you want to delete in the "Shred"-list. For this you can add files one by one by "Load File" button or you can add all files from the folder using "Load Folder" button. Please remember when you load files from the folder all files from subfolders will be placed in the "Shred"-list. You can correct "Shred"-list by "Remove" button: all files will be removed from the list. By pressing "Shred Files" button the unrestoring deleting process of files placed in the "Shred"-list will be initiated.

System requirements:
OS: MS Windows 11/10/8.1/8/7/VISTA/Me/2000/XP x86 x64
Minimum screen resolution 1024x768
CPU: Pentium processor and above
RAM: 128 Mb RAM
HDD: 5 Mb free disk space
Download size: 1.4M
.